Troubleshooting data export
On the member-only dashboards, data drill-through is a feature. From here, you have an option to export the data, as seen below. Typically, the downloaded xls can be found either in the bottom bar of your browser window, or in your default 'Downloads' folder. If you can't find it in either location, the download was likely blocked by a pop-up blocker, or sometimes due to browsing in 'Private' or 'Incognito' mode. Re-attempt the download from a non-private window, and turn off any pop-up blockers that may be enabled.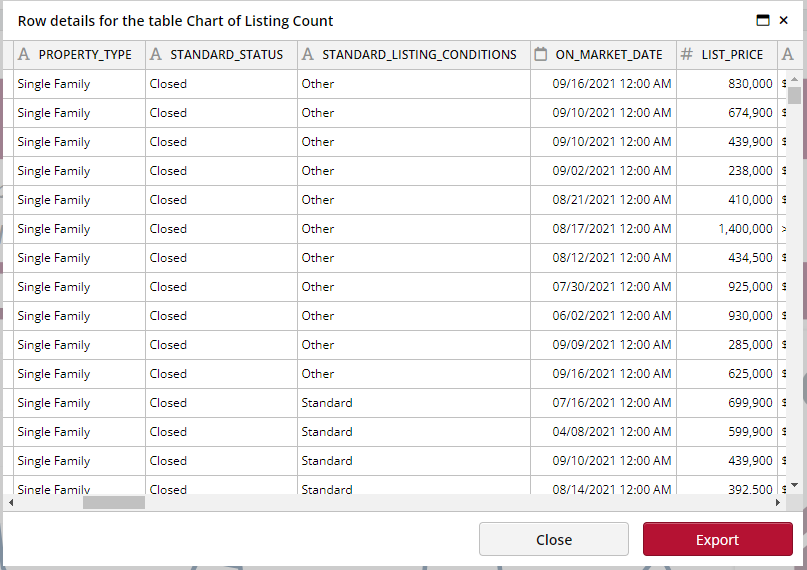 Related Articles

How to access the MLS Listings in an analysis (Data Drill-through)

Learn how to access the MLS listings which went into each calculation, also known as data drill-through. This feature is typically available in all non-public, member only dashboards.

Data drill-through isn't working

One of the most popular features of our dashboards is the ability to drill into the underlying MLS listing data. If you've already reviewed the FAQ on how to do this, and are still having problems, here are some additional tips for troubleshooting. ...

Dashboard troubleshooting

Dashboard doesn't load correctly All Domus dashboards are web applications which are delivered through URLs. As such, they rely on an active internet connection to work. So if your internet goes out or massively slows down, the dashboards won't load. ...

Getting Started

Are you a brand new user of Domus Analytics dashboards? If so, there are a few things you can do to get up and running right away. Head back to the Home Page and sign up for a training class. These are generic classes held at least monthly. Your ...

It's May, why is the dashboard still showing Q1 data?

All of the Domus Analytics dashboards except for 'Weekly Trends' display results through the last full calendar month. Similarly, the Quarterly metrics inside Market Insights only display results through the last full quarter of data. So in April, ...