The size of the drill-through pop-up window is too big
If you try to use the drill-through feature on any of the Member dashboards, you may come across a situation where the pop-up window is too large to be useable. This happens if you've changed the zoom on your browser.
The dashboard itself will not be affected by zoom since it will scale to fit whatever size window you try to view it in.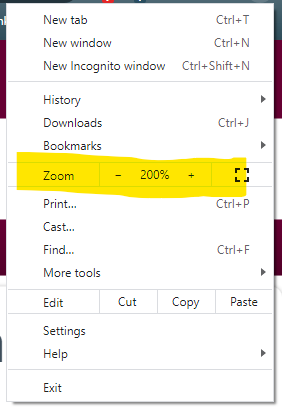 The solution is to scale down the zoom percentage.
Related Articles

Troubleshooting data export

On the member-only dashboards, data drill-through is a feature. From here, you have an option to export the data, as seen below. Typically, the downloaded xls can be found either in the bottom bar of your browser window, or in your default ...

Why does the dashboard keep scaling down in size?

Domus dashboards are designed to scale up or down to whatever size frame, window, or screen they are given. This means that the smaller the screen you're using (like a phone or min-tablet), the harder it will be to use the dashboards. Stats really ...

How to zoom in on a chart

Much like you zoom in on a map, there are times when you may want to zoom in on a chart. Maybe you're viewing a chart with a long time history, but you only want to view or share a shorter period of time. Maybe you're looking at a price ...

Data drill-through isn't working

One of the most popular features of our dashboards is the ability to drill into the underlying MLS listing data. If you've already reviewed the FAQ on how to do this, and are still having problems, here are some additional tips for troubleshooting. ...

How to Export a dashboard to PDF

If you like to email documents to clients, or post them online to download, a PDF is a great way to do that. In order to generate a PDF of a dashboard, you'll use the Print function. When the print window opens, use the Destination drop down to ...